www.RaphaelInternational.com is presenting ideas in hair designs and cosmetology techniques for the 21st Century will exceed your expectations.
Click on photos
To enlarge
Our mission: to provide everything for a more beautiful and healthy you
Imagination...Creativity...Style...Elegance from Master Stylists
Salon Hours: Tuesday through Saturday 10AM to 6PM
Learn how to do Fantasy and other advanced Hair Styles by buying any of these 6 instructional DVD's. Advance your hair styling skills and income potential with these step by step... "How To" DVD taught by International hair styling sensation Raphael.... Click to see step by step details on these DVDs
This site's comprehensive collection of advanced Runway fantasy, After 5 and casual hair styles is designed to inspire professional hair dressers and salon owners in the art of cosmetology. Our series of hair photo galleries feature some of the awesome new looks created by the imagination, hair magic, and International award winning talents of Raphael . Raphael also is an advocate for healthy lifestyles where exercise, diet and nutrients fueling your inner body creates a more beautiful you. Fellow Salon owners are advised to contact Raphael about proven income producing product lines showcased here that are easily moved through retail exposure to their own Salon's clientele.
This web site will not only inspire you, but also "Open your Mind" to a world of creativity and the LOOK you've been longing for.... Most of the style samples presented here are fully explained in Raphael's full color step by step DVDs instructional online purchasing

5 Hair Styling Categories
with samples featured in

step by step
Raphael's Styling DVDs Videos

Exciting new styles and directions. in our redesigned -expanded web site. Raphael International is taking you into the 21st century and future of hair creations... Take a look & discover a new look for you from these pages!
Raphael wins the 2010 OMC World Championship Gold Medal for Fantasy Hair Styling in Paris
---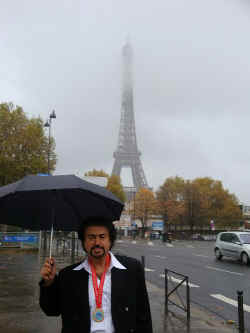 International "Creative Artistic Technique" Award goes to.....Raphael

Phone # 1-586-977-9991