Looking for a special event hair style to really make a grand entrance? A evening out partying deserves a special hair style.
Our Salon caters to those seeking something more then just the average hair styles offered by salons nationwide. Raphael Isho has won styling competitions worldwide for over 25 years and his clientele includes famous movie and music stars, who want to make a unique fashion statement and flare when attending Award ceremonies. Often that starts with a hair style that grabs attention. This also applies to fashion runway models, who crave to get noticed, and seek out stylists to do their hair for fashion shows.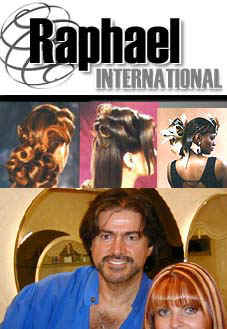 step by step DVDs or Video training series in advanced Fantasy hair styles.
Volume # 6 covers the following subjects and techniques in this 60 minute educational video tape: This video is priced @ only $45.00...buy all six for $185.00. Click here to see our video tape catalog ordering page
Raphael will teach you how to make a lasting impression with curls, cuts, colors, waves, and hair pieces for getting noticed at galas -and special events. complete series of Fantasy videos.
---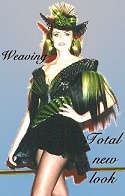 Raphael International offers educational training video tapes to those interested in expanding their cosmetology skills. You may use our shopping cart enable Web ordering form or just call us to place your order. These limited edition videos are in full color contain actual step by step guides to these highly skilled hair design techniques. We accept most major credit cards, and will ship the product by UPS, Fed x or US Mail -parcel post, that the order is received and card has been approved only $195.00.
Click links below for Previews of the video tape contents in each series. Buy all six DVDs 60 minute each and save.


Video Title

code

Description

Pricing

"Fantasy"
Vol.1 thru 4
Start to finish- How to do fantasy hair styles and build various "Fantasy Hair pieces" 4 part series
$49.95 ea.
"Basket Weaving and Braiding"
Vol.5
A Creative new direction in advanced hair designing and fashion statements. Also covers making head bands, accessories, and originals.
$59.95 ea.
"Evening Style"
Vol.6
Master an "After five" look that will make you a star where ever you go. Explores a look for Weddings and Special events requiring a new look !
$45.95 ea.
Limited special
full set
series 1-6

Get all 6 DVDs

$195.00 for full set of 6

call us
your video request with your phone # and best time to call to explain the video tape contents. These same videos are sold at major international hair competitions to showcase the unique talent and fashion artistry by Raphael. These are VHS format tapes& DVDs so they work in all video players.
are you working to hard ? Are you ready to start new business ,to make extra Money... if the answer is (Yes) it is time to work smart , click the links below!!
Best Income Opportunity available to all Hairdresser and Salon Owners (see links below)
change your water change your life
change your Coffee change your life
www.ogshow.com
www.raphael.organogold.com
save Money make Money click on the link below
www.gas.velosity.net
for all you need @ the best price Tools and products