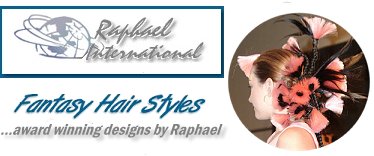 Complete instructional video tapes on advance hair styling techniques by master stylist -Raphael Isho
"World of Fantasy" Vol # 4 instruction hair styling DVDS for only $39.95 .
Video training series for advanced hair designs
Volume #4 covers the following subjects and techniques educational video tape now on sale for only $39.95 in DVD format... Click DVDs cover images on the left for Previews
---
or just call (1-586-977-9991) Raphael or e-mail
your video request with your phone # and best time to call to explain the video tape contents. These same videos are sold at major international hair competitions to showcase the unique talent and fashion artistry of Raphael all DVD players.
Raphael International offers hair care products and educational training video tapes to those interested in expanding their cosmetology skills. You may use the Web ordering form or just call us on our toll free number to place your order. These limited edition videos are in full color with narrations by Raphael and contain actual step by step guides to these highly skilled hair design techniques. We accept most all major credit cards, and will ship the product by UPS, Fed X or US Mail -parcel post, on the same day that the order is received and card has been approved. Salon owners will also receive FREE the $20.00 "Salon Plus" Hair design photo gallery book with a full series order.
Raphael's Instructional Hair Styling DVDs shipped Call Raphael at (586) 977-9991

Fashion runway Modeling and entertainment events inspires some dramatic looks to draw the audiences attention. Raphael has the hair styling experience to transform a fashion show into a major event with some daring hair styles. He also designs some unique gowns, hats and fashion accessories completely out of hair.
---
Purchase Evening -Prom -Wedding and Bridesmaid dresses online or in our Bridal Boutique at the Sterling Heights Raphael Salon & Spa facilities.

Take a look at all of Raphael International hair style categories below.